Energy Skills QLD
Responsive Email and Print Newsletter Design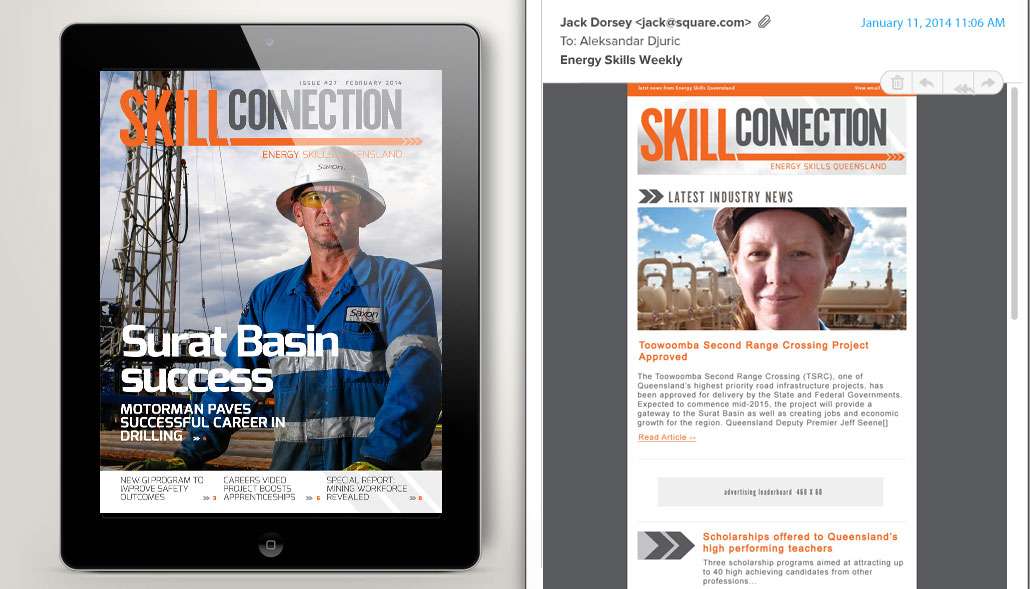 The Brief
Energy Skills QLD came to us to because they needed to appeal to their broadening target market better. Their current branding for their online newsletter and monthly print publication was out dated. It needed a redesign to make it more engaging for their growing younger market. They also needed a solution that would mean they could manage the digital campaign easier.
Our Approach
As they were already using Adobe InDesign and Mailchimp, we focused on these tools to help with the redesign. We designed and rebranded their print publication for InDesign and set up a global template so they could easily drop in new content. We then redesigned their Mailchimp email campaign so it could also be viewed on mobile and tablets and fit with the new publication brand identity. Working with their existing tools meant that their internal communication manager could easily update and manage monthly publications and e-newsletters while presenting a cohesive visual identity across all media. Additionally they were able to reuse some of the branding for their social media platforms.
The Result
The company has been seeing an increase in engagement due to the new designs. By utilising InDesign and Mailchimp they have been able to streamline their workflow for managing regular marketing campaigns.
Project Involved