Archives Fine Books is a Brisbane icon and like many bookstores, were being threatened by the advent of the e book revolution. As lovers of literature, keeping this iconic bookstore alive was a dream WordPress website project for us.
What we did
Archives Fine Books had never had a website before and wanted to step things up to push them into the higher end market so they could help sustain their business. Traditional advertising and promotion wasn't enough so we developed a responsive (mobile friendly) WordPress website that had an online catalogue so visitors could browse and enquire about their most unique finds.
We went for a fresh and modern approach that would easily showcase the pictures of the beautiful books they find.
The brief was
give the site visual impact, ensure it could showcase the pictures of their books
make it easy to update so they could add new books to their catalogue
give them a way to broadcast Archives news and updates on their blog
make sure the site was mobile responsive so potential buyers could see browse and enquire about their books anytime, anywhere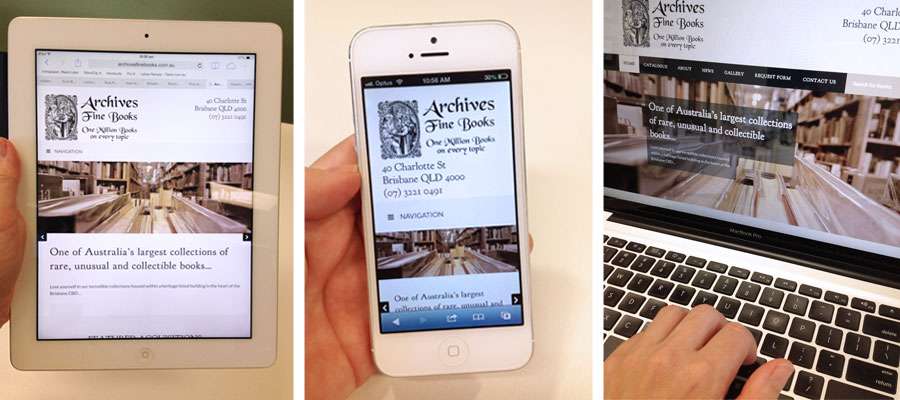 How it worked out
Let's hear from Dawn from Archives Fine Books to see how this project went for them.
Question 1.
SD: Tell us a little about Archives Fine Books.
Located on the ground floor of John Mills Himself, a heritage-listed building in the heart of the Brisbane CBD, Archives Fine Books is one of the largest second-hand bookstores in the world and one of the oldest in Australia (est 1985).
Question 2.
SD: Why did Archives Fine Books need a website?
One of our key features is a substantial assembly of rare, unusual, and collectible books. We needed a website to feature our antiques and other treasures, with a capacity to add new titles regularly.
Question 3.
SD: Has the website helped your business, if so how?
Yes. We have made sales now that we could not have made from passing street-trade. Some sales have come from people browsing the easy-to-navigate online catalogue and falling in love with a book. But even more have come from people searching for a specific rare title and finding it on our website.
Question 4.
SD: Did you learn anything from the web design and development process? Things that have helped or challenged you?
I know my rare stock a lot better because of the process of describing it and photographing it for the website! My only challenge has been to get Photoshop on the work computer so I can optimise my images – a work-in-progress. Overall it's been a great process and we are absolutely thrilled with the result.
Services we provided on this project
Thanks to Hamish and Dawn at Archives Fine Books for letting us work on this project with them, it was a great challenge and we look forward to them finding their way through the e book revolution!