So you know it, you've read about it, Pinterest is gaining more traction as a social media heavyweight and to make sure you can join the conversation, below are some quick ways to add Pinterest to your website or blog.
Add a Follow Button
Head over to Pinterest goodies and you'll see a few tools for pimping up your website or blog to include Pinterest. You can copy and paste the code for the 'follow' button and add it anywhere on your blog or website. There are different sizes and types of buttons and when click on the one you like, the code snippet is revealed.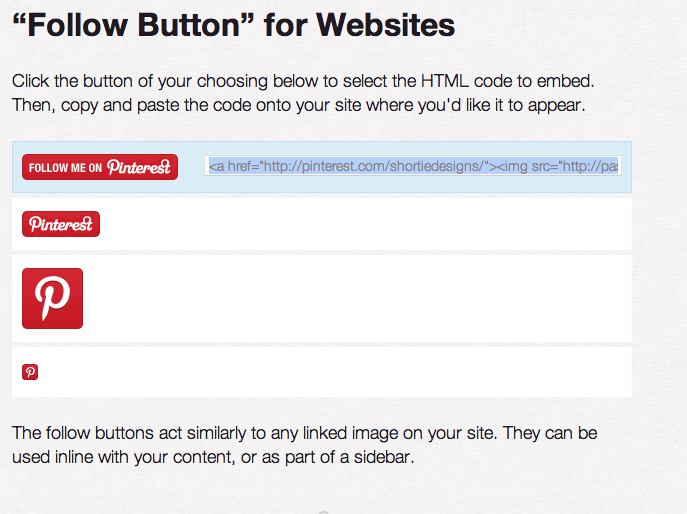 If you've got a WordPress site or blog, you can paste this code into a text widget on the sidebar or footer.
Add a Pin It Button
You can add the Pinterest 'Pin It' button anywhere on your site or blog so that people can pin your content to their Pinterest boards. To encourage people to pin to their boards, make sure you include a good image which will represent your page or post. If you're a photographer, designer or artist, this is a great way to encourage people to pin your work to their boards. If you're concerned about copyright, head over to the Pinterest copyright section to read more about how they are handling this issue. If you want to find out more, there are also plenty of posts and information out there about how the community is handling copyright too.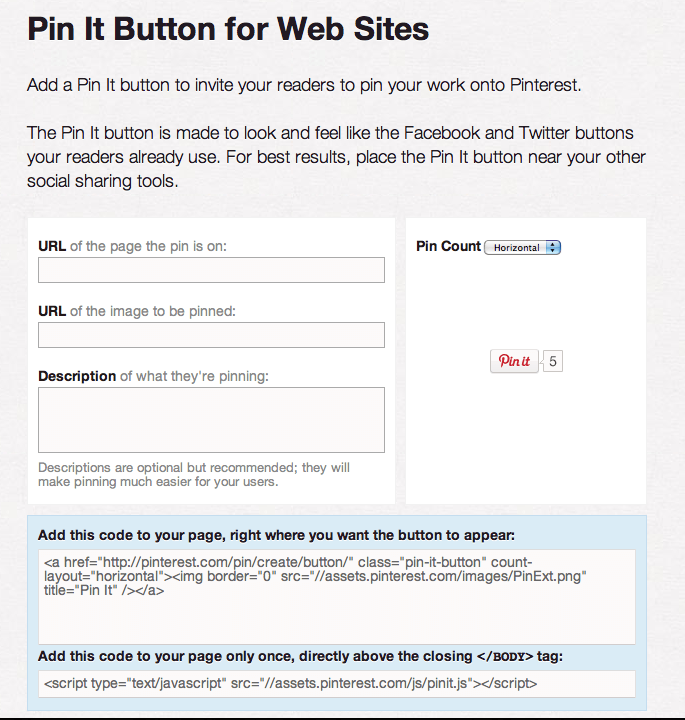 If you have a WordPress site or blog, you can add the 'Pin It' button through a plug in, I use the Pin It On Pinterest plug in which allows you to select what image you want your readers to pin to their boards. Easy to use and quick to set up. NB: the 'Pin It' button won't appear unless you specify an image in the custom fields at the bottom of your post editor screen. So there you have it, a few easy steps to get your website or blog ready to integrate with Pinterest. Have fun!